December 1 marks World AIDS Day. Despite raising awareness through various means, the disease remains a taboo not only in India but also in various parts of the world. The Indian film industry has taken a step forward by offering AIDS-themed films. Although these films managed to create a buzz, most of them went unnoticed at the box office.
On the occasion of World AIDS Day, a look back at 5 poignant films that raised awareness about AIDS and are a must-see.
AIDS Jaago (2007)
Directed by acclaimed directors Mira Nair, Vishal Bhardwaj, Farhan Akhtar and Santosh, 'AIDS Jaago' is a four short film project that aims to raise awareness of myths and misconceptions about HIV/AIDS. The films – Migration, Blood Brothers, Positive and Prarambha – come from different parts of the country with their own genre and a different take on the disease. The films star Shiney Ahuja, Irrfan Khan, Sameera Reddy, Raima Sen, Ayesha Takia, and Pankaj Kapur, among others.
Phir Milenge (2004)
Inspired by the American film "Philadelphia", the film is directed by actress Revathi and stars Shilpa Shetty, Salman Khan and Abhishek Bachchan in the lead roles. The story is about Tamanna Sahni (Shilpa Shetty) who loses her job after her employer learns that she is HIV positive. Angered by unfair dismissal, she files a complaint against the employer. Eventually, Tarun Anand (Abhishek) accepts his case. Unfortunately, they lose the case but they take it to the High Court again. After Tarun strongly fights the case, she finally wins the case in the High Court. Later, Tamanna starts her own business and after two years is recognized as one of the young directors.
My Brother… Nikhil (2005)
Directed by Onir, the film stars Sanjay Suri and Juhi Chawla in the lead roles. The film is based on the life of Dominic D'Souza, a World Wildlife Fund worker and AIDS activist. The film is based on two important subjects 'homosexuality' and 'AIDS'. The film depicts the life of protagonist Nikhil and how his life changes after being diagnosed with HIV. His parents kick him out of the house, his friends move out, he gets kicked off his swim team and even gets arrested just for being HIV positive. He is forced to live in isolation. The only person to support him is his sister Anamika (Juhi Chawla), his boyfriend Sam (Gautam Kapoor) and his boyfriend Nigel D'Costa (Purab Kohli). Despite the threats, Anamika and Nigel manage to free him.
68 pages (2007)
Directed by Sridhar Rangayan, the film is based on an HIV/AIDS counselor and her clients. The film perfectly depicts how society stigmatizes and shuns people diagnosed with HIV/AIDS and those who are different. The film tells the story of the counselor (tried by Mauli Ganguly) who avoids emotional attachment with her clients but finds it difficult to remain indifferent. She expresses her feelings in '68 pages' of her personal diary.
Dus Kahaniyaan – Zahir (2007)
Dus Kahaniyaan is an anthology of ten short films directed by six directors. One of the films titled 'Zahir' revolves around 'AIDS'. Directed by Sanjay Gupta, the film stars Dia Mirza and Manoj Bajpayee. The story is about Zahir (Manoj) a writer who comes to stay at a friend's apartment where he meets Sia, who shares an apartment on the same floor as him. They become friends and eventually fall in love. But Sia rejects Zahir. One evening, while going to a bar with his friends, he learns that Sia is a bar dancer. Frustrated, he visits her apartment and despite her attempts to explain the truth to her, he rapes her. The next morning, when Zahir wakes up, he finds a note from Sia that explains "AIDS" the reason for his rejection and she cared about his health and well-being. The story is told by Zahir who reveals that Sia died two years ago and is now awaiting her death.
Nidaan (2000)
Directed by Mahesh Manjrekar, the film stars Shivaji Satam, Reema Lagoo, Sunil Barve, Nisha Bains, Mohan Joshi and Sanjay Dutt. The film tells the story of a teenager who contracts AIDS during a blood transfusion. The film was declared tax exempt by the Indian government.
Pyaar Mein Kabhi Kabhi (1999)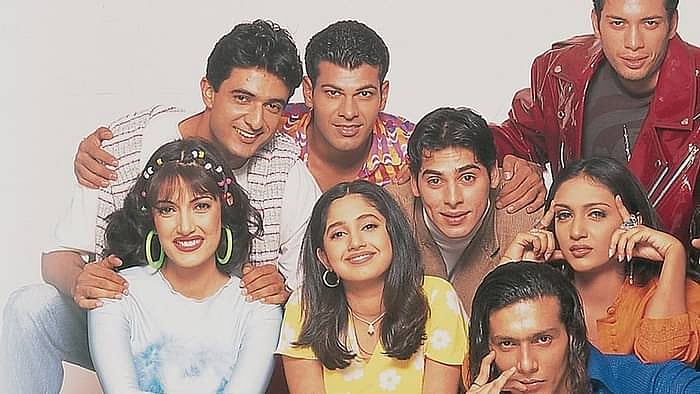 The film is not based on the subject 'AIDS' but a part talks about it. Emotional upheavals haunt the group when one of the protagonist's friends contracts the disease and how his friends support him.
(To receive our daily E-paper on WhatsApp, please Click here. We allow the PDF of the document to be shared on WhatsApp and other social media platforms.)
Posted: Wednesday December 1st 2021, 09:01 IST